Check out Michelle and Tom's rustic chic wedding which took place in Kurrajong, Australia.
Michelle + Tom
Tom and I were both born in Sydney, Australia and have lived in Sydney all our lives. We met online in 2013. Tom was the very first person I spoke to, and I remember how easily he made me laugh and how easy talking to him was. We were both working full time and at university, so spending time together was really difficult. Fast forward a few years, and we moved in together, have travelled, adopted a cat, and now we're married!
The proposal
Tom and I went to America in 2017 and did a trip around San Francisco, LA, New York and Vegas. Tom always knew I hated being the centre of attention so one night in our Airbnb in New York City, we were laying in bed talking, and Tom pulled out the ring and proposed right then and there.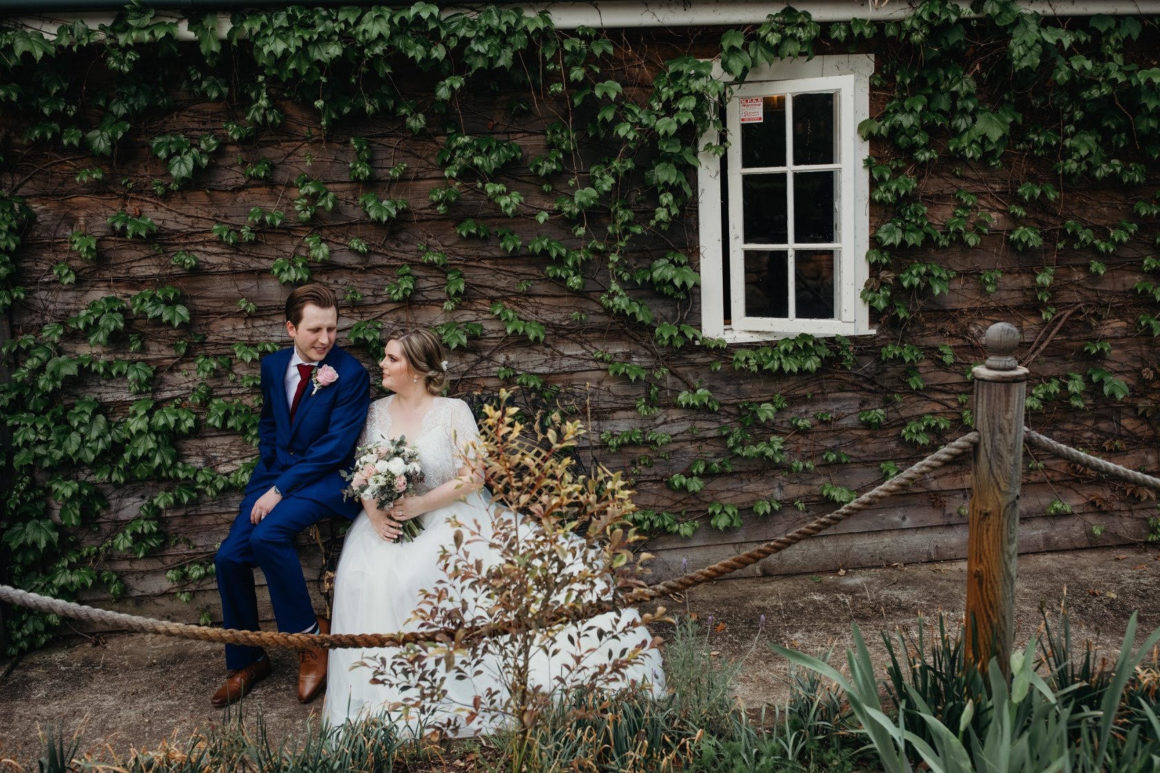 The wedding location
We both wanted a wedding that was 100 per cent us, and that was intimate and that we could fully design ourselves. We found our wedding venue on Airbnb actually! It was a private farmhouse called Curraweena House in beautiful Kurrajong in the NSW Hawkesbury area. It was perfect for what we wanted with beautiful gardens, a great big barn for dinner and a beautiful homestead for our immediate family to stay in.
The wedding gown
It was actually by complete accident that I found my Daalarna gown. I had booked an appointment at Hope X Page in Caringbah in Sydney to try on another designer's gown, but when I saw it in person, I hated it. Fortunately, it was next to a gorgeous lace and tulle Daalarna gown and I just completely fell in love with it. It was perfect for my body shape and accentuated all the parts of my body I wanted. It was literally love at first sight, and I put my deposit down immediately.
Memories of the big day
Our big day was absolutely perfect. We had approximately 50 people attend and it the whole day flowed so smoothly. Our guests were able to drink during the garden ceremony, we had yard games, yummy food (including pizza and mini burgers) and we just laughed and danced.
My favourite memories, gosh there were so many! Tom and I decided not to have a bridal party. Instead, we sat at a table just the two of us, and it was perfect. We were able to escape from everyone when we wanted to just have time to ourselves; it was really special. My other favourite memory was getting ready with my two best friends and mum. It was so much fun just to sing, dance, get our hair and makeup done and drink champagne.
The most beautiful moments
So many! I look back at the photos, and everyone is laughing and having such a good time, and there is just so much emotion and happiness that has been captured. Also listening to Tom read his vows just made me realise how truly perfect we are for each other. It was also really beautiful hearing both our fathers say speeches during the reception and hearing such lovely words.
About traditions
Tom and I are probably the least traditional people ever. We didn't have a bridal party, we didn't do a first dance, and I am not taking Toms last name. We would prefer to make our own traditions like having a roast dinner every Sunday and having beach barbecues in the summer.
Advice for future brides
Consider having a "sweetheart" table where just you and your wife/husband sit together. It gives you time away from all the craziness of a wedding.
Photography: T-One Image, Wedding dress: Daalarna Couture / Hope X Page Sydney, Location: Curraweena House, Kurrajong, Australia

If you want to check if Daalarna Couture is available in your country, click here for the list of our international retailers. For more real wedding stories, please click here.