Tahmina and Andrew met through a dating app – and as they say, the rest is history. The London-based couple tied the knot at the stunning Hampton Court House which is an 18th-century building on the edge of Bushy Park in the London Borough of Richmond upon Thames. The beautiful bride wore Daalarna on the big day and in this interview, she talks about all the challenges she faced in the process of getting the dress of her dreams.
Could you please introduce yourself in a few words?
Hello, I'm Tahmina from London!
How did you meet your husband?
We met through a dating app called Hinge. Back then, I was too busy focussing on my career, so when I did decide to start dating again – he was my second date from the app, and also that year!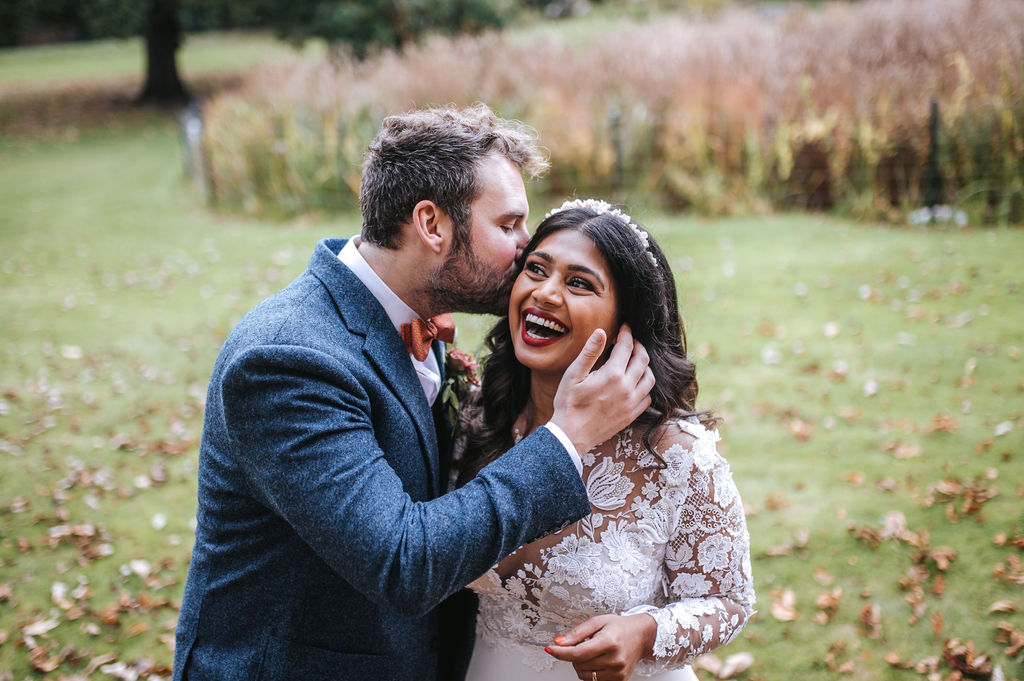 How was the proposal?
Like a crazy person, he proposed two months after we met! He did it on New Year's Day over a champagne brunch at the Rosewood Hotel in London.
How did you find your wedding location?
We were originally supposed to get married in March 2020 and at a different venue by the coast, but we had to cancel because that date was the first Saturday of lockdown in the UK. When we were finally able to get married, we picked the stunning Hampton Court House because that felt more like us.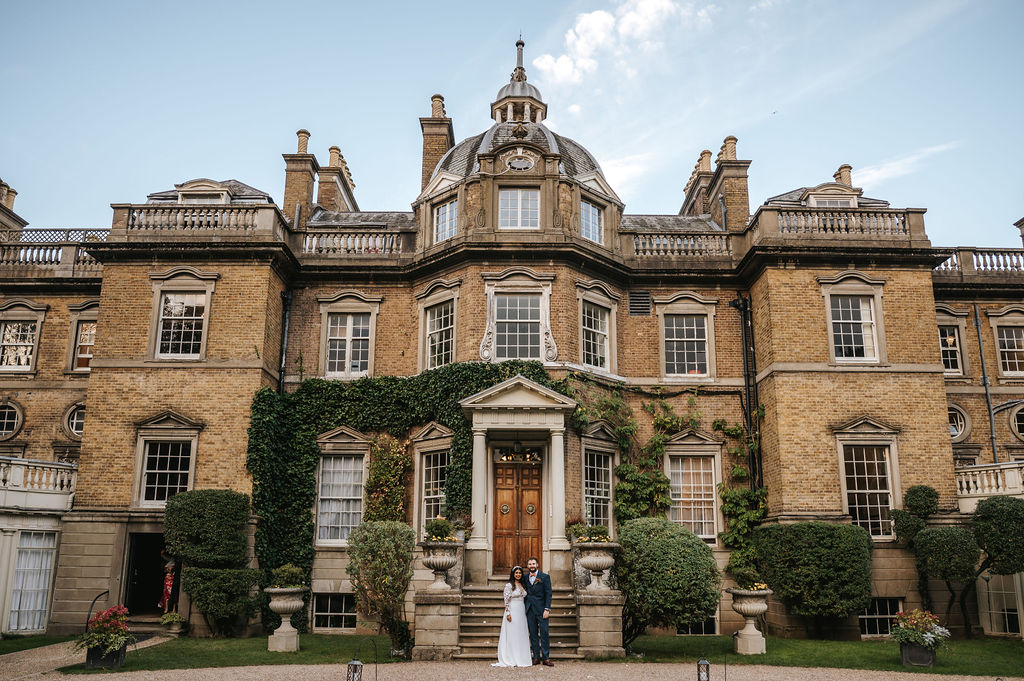 And how did you choose your wedding dress, your Daalarna gown?
As you can tell by now, I'm the sort of person who knows quickly what's right for me and what's not (after all, I did say yes to a man who I'd only been dating for 2 months!). I think I saw the Daalarna dress on either social media or in a magazine and I instantly fell in love. At the time, Daalarna didn't have a bridal shop in the UK, so I'd even emailed the team in Hungary to ask if I could buy the dress. The team let me know that typically, a bride should buy her dress close to where she lives so she can have regular fittings. (I didn't know that at the time and naturally, I wasn't going to fly to Budapest every time I needed a fitting.)
A few months later, as luck would have it – Daalarna was having a trunk show at the Wedding Club in London. My dress was the first dress I tried on and although my mum suggested I try on at two others for comparison, I knew what I'd gone there for – that dress. I love everything about it – the top half which looks like lace flowers growing on your skin as if I was magical, and that stunning simple lower half which draped across my curvy hips in such a flattering way.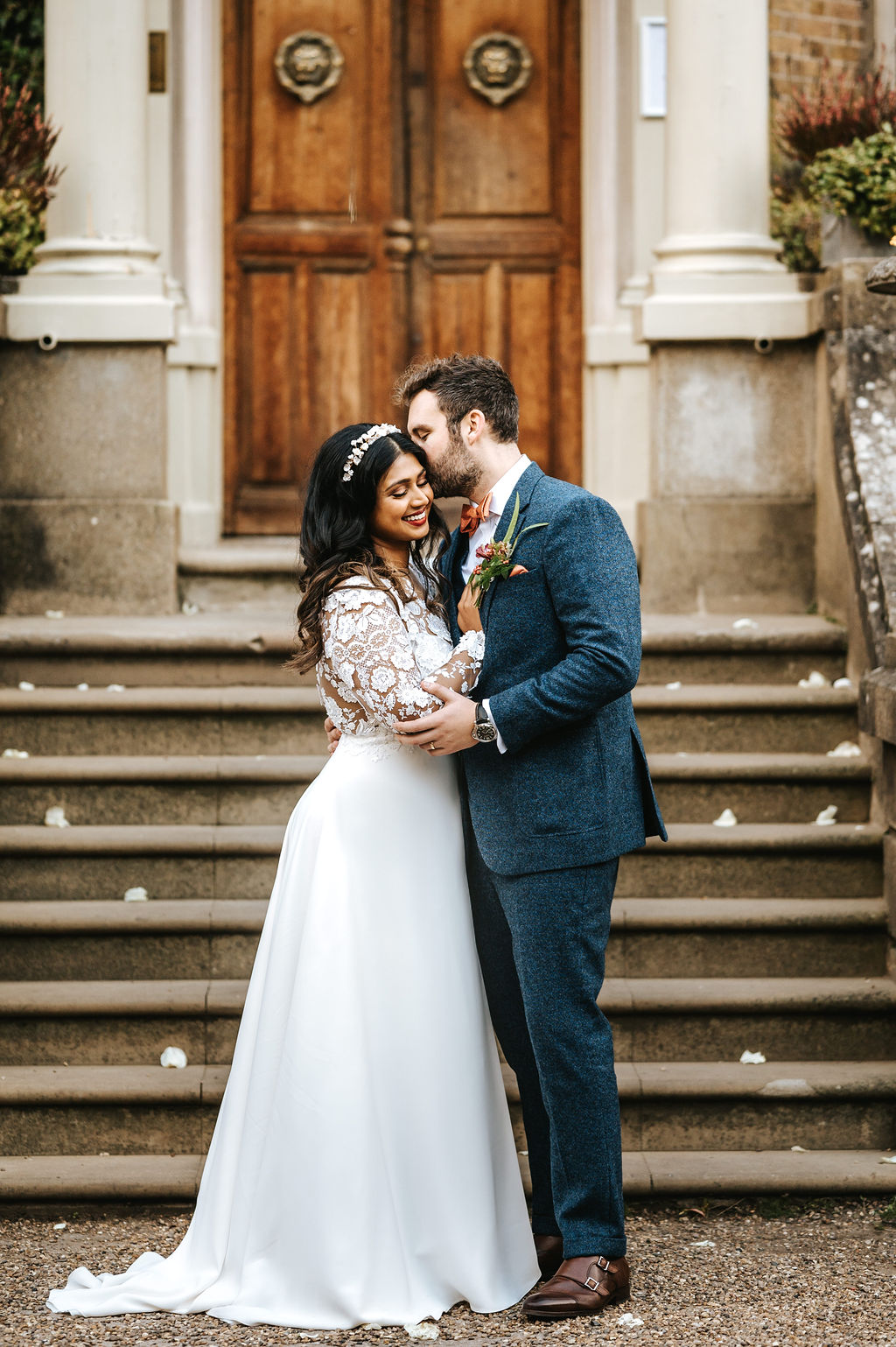 How was the big day? What are your favourite memories from your wedding day?
I was so excited to marry Andrew and woke up on the day genuinely looking forward to everything. Our day was full of happy memories, ones we'll remember and treasure forever! I remember feeling so happy and having such a good time.
Did you keep any wedding traditions?
We had a relatively modern English wedding, but I did wear a white dress, spend the night before away from the groom, and have something blue. (My wedding speech note cards. Although bridal wedding speech isn't very traditional!) My mother-in-law gave me a horseshoe after the wedding ceremony which is very traditional and brings good luck to a new marriage – which we have hanging up in the living room because it's so special!
If you could give one piece of advice to our future brides, what would it be?
If there is something you really want at your wedding, for example – a special type of photo, make sure you let your vendor know in clear detail. There's no harm in going over the special details lots of times so that you get exactly what you want. Having said that, remember that, inevitably, something will change on the day from what you planned – don't let that spoil your day.
In today's world full of uncertainty, take a deep breath and allow yourself to enjoy all of your wedding day, knowing that the person you're standing next to you loves you and wants to share a future with you. That's something special.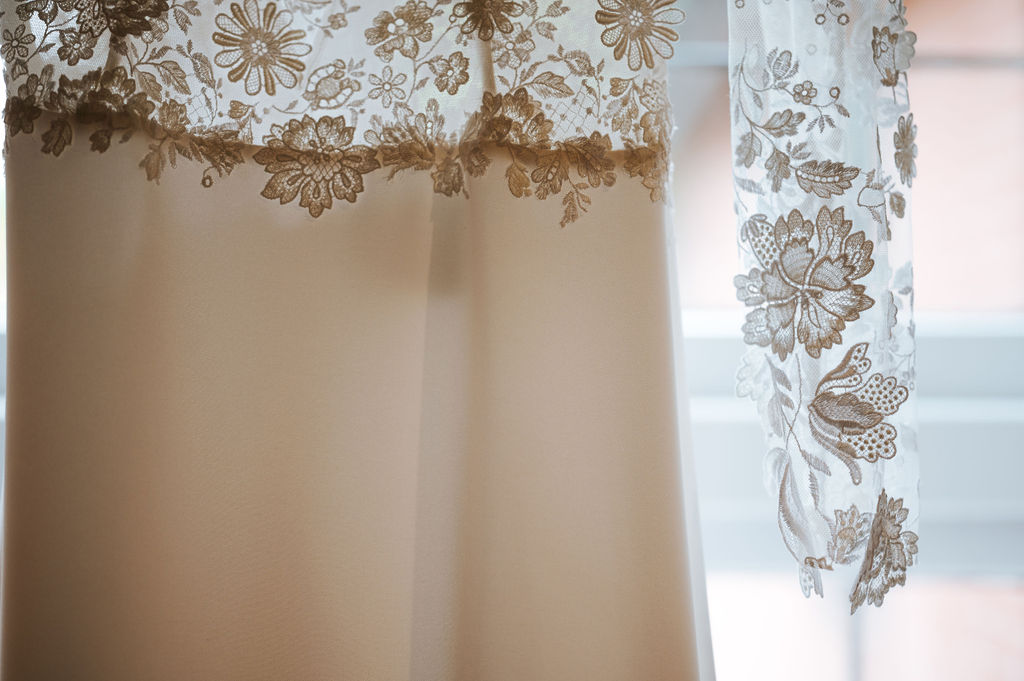 Photos by Marek at Blue Lily Wedding, Bride's dress by Daalarna, Shoes - Jimmy Choo, Groom's suit - Beggars Run, Headpiece by Eden B. Studio, Makeup by Storme Hair and Makeup, Florals by Poppy Emuss at Poppy Wild Floral
We are happy to share that Daalarna is now available in the United Kingdom! If you want to check if Daalarna is available in your country, click here for the list of our international retailers. For more real wedding stories, click here. Don't forget to follow us on Instagram and Pinterest!