Here is how photographer Ashley Laprade remembers this unique and colorful wedding which took place in Palm Springs, California.
"February is still considered Winter for most of the country. In Palm Springs you are greeted with blue sunny skies, pops of color from the vegetation, and a vibe of pool-time with cocktails and chill. This atmosphere provided all the San Francisco's and East Coast guests with an attitude of fun and let's party. The welcome table greeted guests with fun colorful options of polaroid selfies, gift giving, and mingling. I was so excited that a polaroid camera was there, I took so many photos of guests throughout the day. Leaving a box full of polaroids by the end of the night for Ashley and Jeremy to view the following day at their brunch.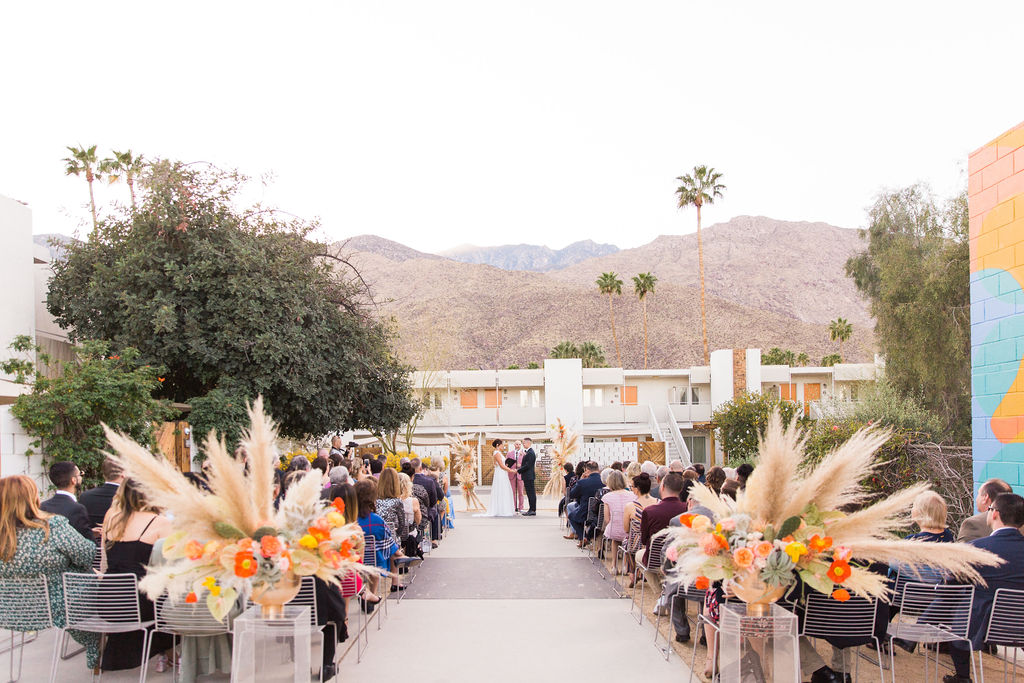 Jeremy wrapping his arms on the lower back of Ashley and going in for that Hollywood passionate kiss. It made for the best "just married" photos. The pouring of Champagne and the passing of California fusion appetizers. With the DJ spinning vinyls, the sound of people mingling, and the pure joy that came over Ashley and Jeremy.
From the first dance to the last dance of the night, everyone celebrated Ashley and Jeremy with laughter, "remember when…" phrases, and the "I'm so excited the two of you are married" sentiments."
Getting Ready
First Look
Ceremony
Reception & Party
Creative Photos
Read more about this colorful wedding on Ashley's blog.

Venue: Ace Hotel, Planner: The Walk Down the Aisle, Paper Goods: Swell Press, Hair and Make-Up: Sitting Pretty Beauty Lounge, Florals: Arrangements, Rentals: Planks and Patina, DJ: Dart Collective, Dress: Daalarna Couture (Look SNT 552) / WildBride Bridal Shop, San Franciso 
If you want to check if Daalarna Couture is available in your country, click here for the list of our international retailers. Did you wear a Daalarna Couture gown on your wedding day? Get featured on our blog – submit your wedding photos by clicking here!