It is so important to leave enough time for finding the perfect wedding dress, eight or nine months before the wedding start looking around at what is available, and weigh up the various options. If you keep in mind the following steps you are sure to avoid major pitfalls!
Choosing the perfect wedding dress is one of the most important decisions' in a woman's life. For some it is love at first sight, while others spend weeks trying on dresses of different shapes and styles until they find the perfect one. One thing is for sure however. There are certain points which must be considered as they influence the selection of the perfect wedding dress.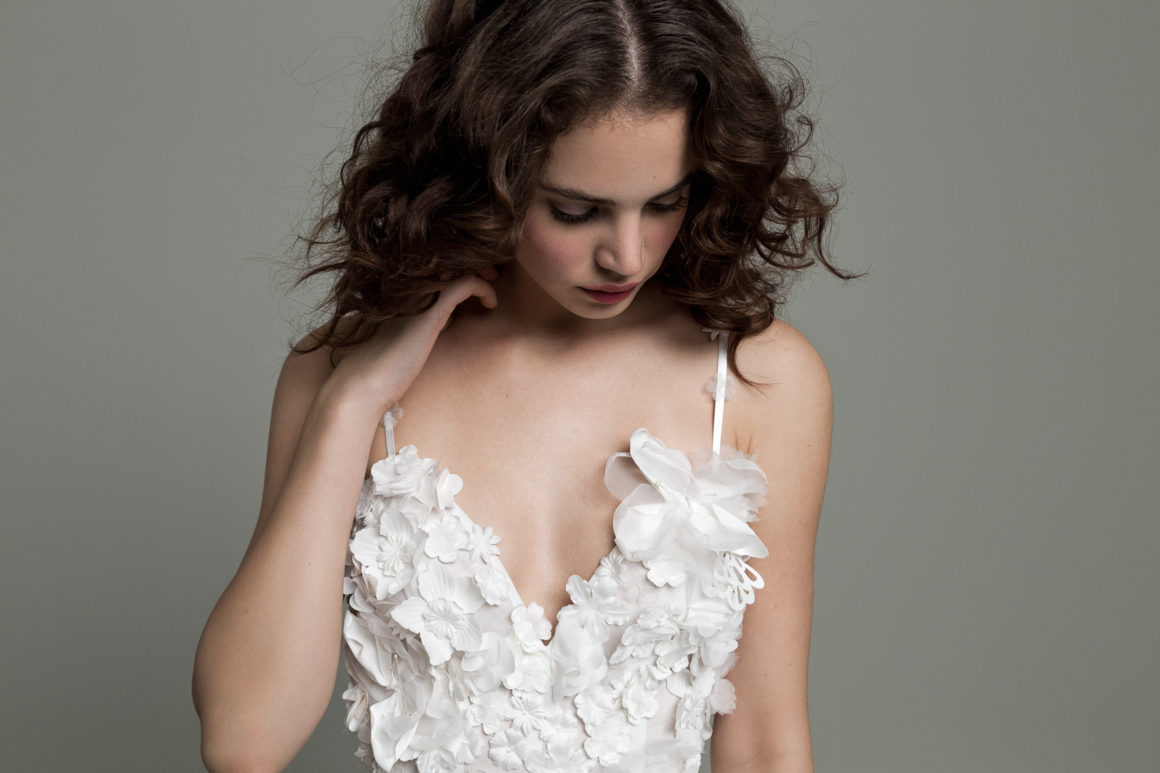 1. The Style
Before choosing the wedding dress the most important task is to decide on the style. Imagine the wedding, how do you see yourself, as a romantic princess, as a modern city fashion diva, or perhaps as a completely minimalist woman? If you more or less know which style suits you best then you can put a tick at the first point already.
2. The Venue
The venue for the ceremony and the following reception also play an important part. The choice of dress is influenced by whether you would like a relaxed garden party affair or a lake side wedding or perhaps you plan to rent a castle for the big day. Click here for venue tips.
3. The Cut
When choosing the cut it is important to consider the shape. At this point it is not necessary to work out all the details of what kind of dress you would like, but to have a silhouette in mind. Do you envisage a curvy mermaid style or an hourglass shape dress fit for a princess? To clarify your thinking, it is worth starting at the top of the dress and working your way down recording your ideas point by point. How much flesh would you like to show? Do you want covered shoulders? Would you like a strappy or strapless dress? Should the sleeves be long short, or perhaps sleeveless? Décolleté or covered? Classical corset or a looser top part? Long or short skirt? Shorter at the front and longer at the back style?
4. Colour
Today there is a great range of colours of wedding dresses. The palette includes everything from snow white to vivid colours. It is important to remember, however, that not every shade and colour suits everyone, skin complexion, eye and hair colour all have a major part in the decision. Dazzling snow white is perhaps the most difficult question. This harsh colour with a tinge of blue actually suits very few. Shades of off-white and porcelain offer many more possibilities as do warmer shades of ecru, eggshell, buttercream and cream colours. There are many special shades of champagne available too, and for those who are really daring, and if the style of the wedding allows, the dress can be splendid in pink, blue, green or gold.
5. Material
You don't need a degree in textiles to be familiar with the characteristics of materials. The most important task is to decide whether the dress should be flowing or rigid. Then comes the selection of the material. It is worth considering if you want a matt or shiny finish to the top layer, should it be see-through, airy, light or thick? If you would like lace then what kind are you thinking of? Should it be smooth or decorated? Silk, satin, tulle, are all materials which you may not like for everyday wear, and so are out of the question for the wedding dress. On the other hand you may have set your heart on a big tulle dress years ago, and for you there is no alternative. Write down which materials you like and which you detest, and again you are one step closer to the final result.
6. Decorative elements
After selecting the material, you can start thinking about the decoration. Stones, crystals, embroidery, pearls, frills, inlets, pleats, little flowers, and roses. So many ideas to choose from but don't forget the golden rule, less is sometimes more!
7. Freedom of movement
Keep in mind what kind of wedding you would like to plan, will it be an elegant reception where you hardly sit down all evening, or a dance party lasting till the small hours? Not every wedding dress is suitable for unrestrained dancing. The question of the train also belongs here, how long a train would you like behind you, how much material would you like at the back of the dress, will you be able to move easily and party?
8. Seasons
Will it be a Summer or Winter wedding? Will the ceremony be in a room with air conditioning or an outdoor venue? These questions are particularly important when deciding on the material, and what weight the dress should be. An August afternoon can be very hot, and certain materials could become damp which no-one would like to see. Not to mention that a stain could appear on the dress, also leading to an unpleasant situation. In Winter it would be a shame to be cold. There are warm woolen or silk materials from which an enchanting dress can be made, and you don't have to freeze all day.
9. Cleaning properties
The cleaning properties of the dress should also be considered. For example if the dress is made of pure silk, then any stains left by natural dyes like flower petals, grass or any food may be unremovable. If the wedding venue is for example outdoors, then the dress should be made of man-made fibres. These are less sensitive to stains, and can be cleaned more easily.
10. Accessories
Perhaps there is a piece of jewelry in your family, or a favourite necklace or earrings, that you would really love to wear on your wedding day. In that case it is worth looking for a dress to suit the jewelry. Regarding the necklace the cut of the top part is important, while the style of the jewelry may also influence the choice of the dress itself. The jewelry and the dress must complement each other to create harmony in your appearance. Shoes may also be included in the accessories. The choice of shoes is influenced by the venue, a pair of high heeled sandals may not be the best choice for a grassy meadow, as you could get stuck in the soil or find it difficult to move. If the event is planned for such a venue, then the shoes must suit the environment. The dress must suit the shoes. A flat heeled shoe can be both elegant and smart, but it is important to decide in advance because of the length of the dress.
To find the perfect dress for your wedding, take a look at Daalarna Couture's newest collection by clicking here.