The journey to finding the perfect wedding dress is an exciting and emotional experience for any bride-to-be. One of the most thrilling and informative ways to discover that dream gown is by attending a bridal trunk show. Bridal trunk shows are exclusive events held by bridal boutiques, offering brides a unique opportunity to explore and try on the latest wedding gown collections. In this article, we'll delve into what bridal trunk shows are, how they work, and where can you try on Daalarna's newest wedding dresses!
What is a Bridal Trunk Show?
A bridal trunk show is an exclusive event organized by bridal boutiques, usually featuring a particular wedding dress designer's latest collection. It's called a "trunk show" because the designer's representative brings a trunk filled with a selection of dresses from their latest line. The purpose of these events is to give brides the opportunity to view, try on, and order gowns that may not (yet) be available in the boutique's regular inventory.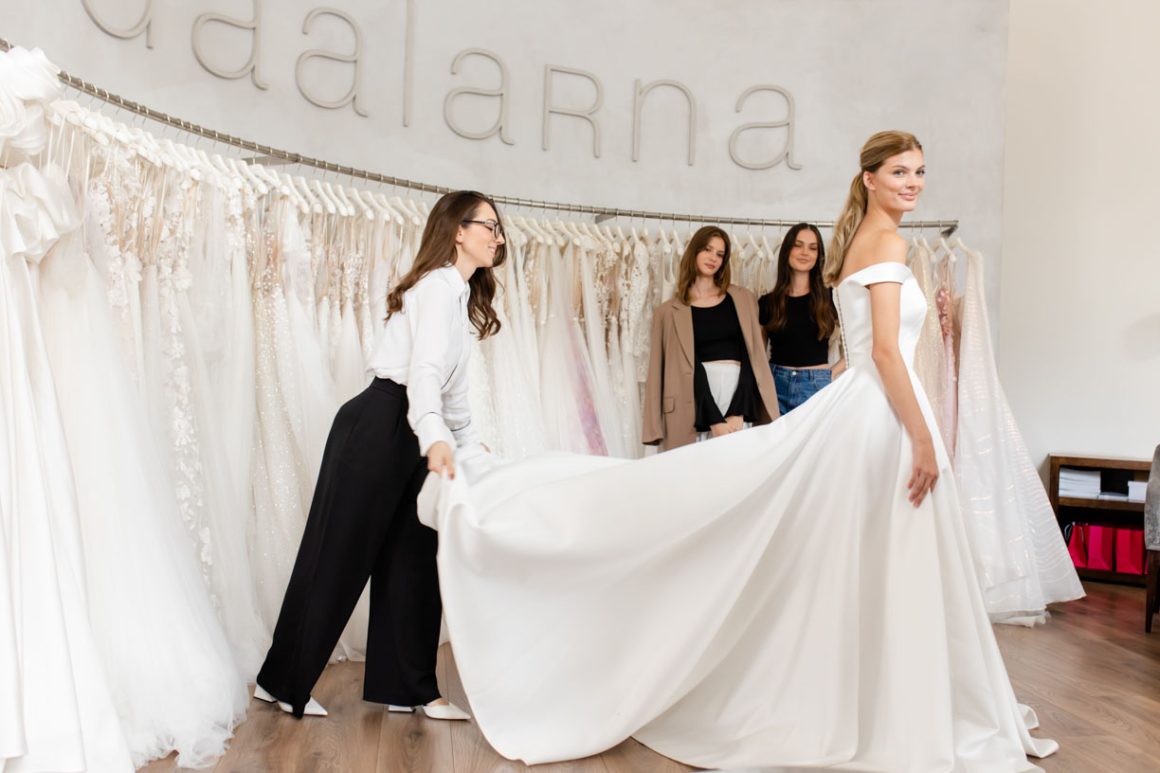 How Bridal Trunk Shows Work
Exclusive Designer Collections
Trunk shows are a bride's chance to preview and experience a designer's latest wedding dress collection before it becomes widely available in stores. If you have your eye on a particular designer or brand, like Daalarna, attending our international partner's trunk show is a fantastic way to be among the first to see and try on the newest Daalarna creations.
Bridal trunk shows are typically held over a specific weekend or sometimes a week, with appointments scheduled during these designated dates. It's crucial to book an appointment in advance, as the slots can fill up quickly. Click here to find out more about the next Daalarna Bridal Trunk Shows.
During a trunk show, the designer's representative is often present to offer insight into the collection and help brides make their selections. Their knowledge of the dresses and the designer's vision can be invaluable in finding the perfect gown.
Depending on the designer and boutique, you may have the option to customize certain aspects of the dress, such as changing the neckline, adding sleeves, or selecting a different fabric. This personalization can result in a truly unique wedding gown.
Appointments are crucial for a smooth trunk show experience. Bridal boutiques will schedule individual appointments to ensure each bride receives personalized attention and has a dedicated consultant to guide them through the process.
While it's essential to have the support of your closest friends and family, be mindful not to overwhelm yourself with a large entourage. The opinions of a few trusted individuals can be invaluable in making your decision.
Bridal trunk shows are a magical and informative part of the wedding dress shopping experience. They offer brides the chance to discover the latest bridal fashion, receive expert guidance, and enjoy exclusive savings on their dream wedding gown. If you're in search of a wedding dress that is truly unique and fits your style and personality, attending a bridal trunk show may be the perfect choice for you. So, book your appointment, bring your entourage, and get ready to embark on the exciting journey of finding your dream wedding dress.
Click here to view the upcoming Daalarna trunk shows and get an appointment today!