Daalarna Garden, situated in Szentendre, Hungary, is an exquisite wedding and event venue that offers a sustainable luxury experience. It is the perfect choice for those seeking safety, quality, and comfort in a location that is conveniently close to Budapest yet far enough away to provide an ideal atmosphere for complete relaxation.
The Story of Daalarna Garden
Twenty years after the establishment of Daalarna, Anita Benes and her husband recognized the opportune moment to embark on another project toghether.
"We have had the privilege of meeting many extraordinary individuals at various stages of our lives," says Anita Benes. "During these encounters, I often pondered the idea of forging deeper connections with like-minded people who share our values and perspectives. My husband, who has been immersed in the architectural field for years, felt the same way about his own circle of acquaintances. This led us to conceive the concept of creating a venue together, one that would serve as Daalarna's country home, allowing us to continue the engaging conversations that often began over a glass of wine and a delectable meal, whether by the pool or in front of the fireplace, depending on the season."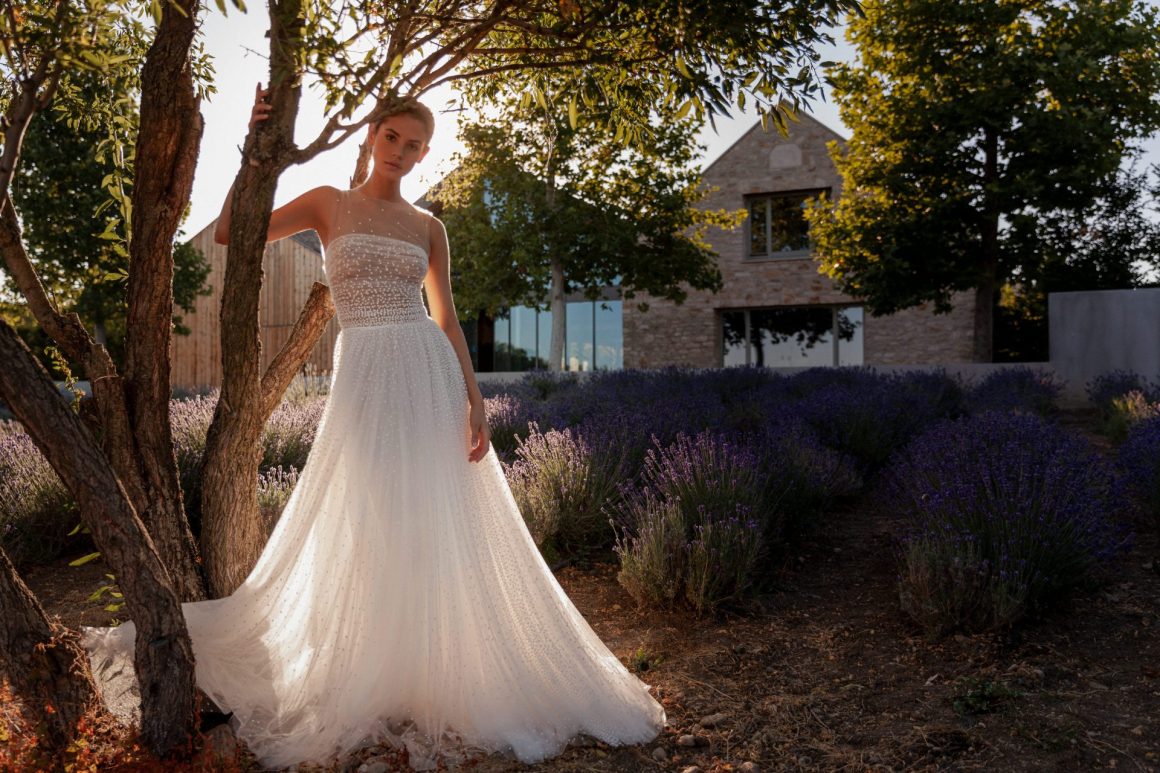 Where Every Element Tells a Story
Nestled within the immediate vicinity of Szentendre's renowned vineyard, Kő-hegy, the five-hectare estate exudes captivating natural beauty that once inspired Hungarian artists such as Sándor Petőfi and Jenő Barcsay.
Daalarna Garden harmoniously blends the owners' passions for nature, minimalism, and landscape architecture. The estate has been envisioned to satisfy all senses and possible demands. With a fully equipped kitchen, a wine cellar boasting an exceptional selection, a 20-meter long infinity pool, a sprawling hectare of lavender gardens, a themed greenhouse, a wildflower meadow, a cozy campfire area, three elegant suites, indoor and outdoor bars, a spacious covered terrace, and a cinema room featuring a grand six-meter screen, the site's diverse indoor and outdoor amenities are seemingly endless.
Sustainable Construction
A pivotal design objective was to maximize guest satisfaction while minimizing the environmental impact during both construction and operation. Thus, the principles of "greenology" and green architecture guided the selection of materials and technologies.
It was crucial to integrate "something old" alongside "something new," underscoring the growing significance of recycling and "greenology" in contemporary architecture. For instance, the entire range of wood and cast iron materials was repurposed from a demolished historical monument. A significant portion of the paving stones originated from historic remnants not utilized in the reconstruction of the Hungarian National Museum's garden, while the roof incorporates salvaged pots from a sacral building that was demolished in Vojvodina, Serbia. Contributions from Lajos Pap, a skilled stone sculptor and carver, as well as Tivadar Lehoczky, a master blacksmith, adorned the buildings, which seamlessly blend wood, stone, and glass while showcasing wrought-iron elements.
Environment and Landscape Architecture
The estate is situated in close proximity to the Danube-Ipoly National Park. The garden's architectural concept aims to create an enchanting park that provides a spatial experience seamlessly blending into the surrounding natural landscape. Landscape architecture serves as a visual bridge between the past and present, harmoniously combining the existing vegetation (almond, apple, acacia, and maple trees) with new additions such as lavender, plane trees, flower meadows, and tulips.
Preservation and support of local wildlife, including amphibians, small mammals, insects, and birds, take precedence. Numerous biodynamic solutions have been implemented, such as wetlands, water retention features, insect-rich wildflower meadows, nesting sites, survival shelters, and pet feeders. To ensure the tranquility of wildlife, fireworks and the presence of four-legged pets are not permitted on the property.
Technological Advancements and Sustainable Comfort
Daalarna Garden stands as a contemporary venue, equipped with modern amenities. Electricity is sourced from its own solar farm, while a Loxone system provides automated control over the buildings and garden. NILAN heat pumps are employed for cooling and heating purposes, and electric lawnmowers ensure precise lawn maintenance. All event areas are equipped with heating and air conditioning systems. The buildings and gardens feature professional sound, lighting, and security installations.
Daalarna Garden offers a memorable experience for every season. Starting from 2024, we gladly welcome inquiries for weddings, as well as private and corporate events of up to 150 people.
To request a quote for 2024, kindly email us at hello@daalarnagarden.hu
PHOTOS: KONDELLA MISI, SCHUSTER HANNA, PAPP ÉVA ÉS SCHNEIDER ZOLTÁN