The birth of Daalarna Couture's latest BUDAPEST collection was inspired by very personal experiences. Anita Benes, the designer of Daalarna Couture, now tells you in her own words how the collection and the campaign images came together in her head.
"It has only been a few months since the presentation of our latest collection as the world has fundamentally changed around us. Both as an individual and as a designer, the events of 2020 have left a mark on me; the uncertainty of the world has inspired me to rediscover the values ​​and opportunities within my own comfort zone. One such point of reference for me is Budapest, my home: no matter how far I travel from here I always come back.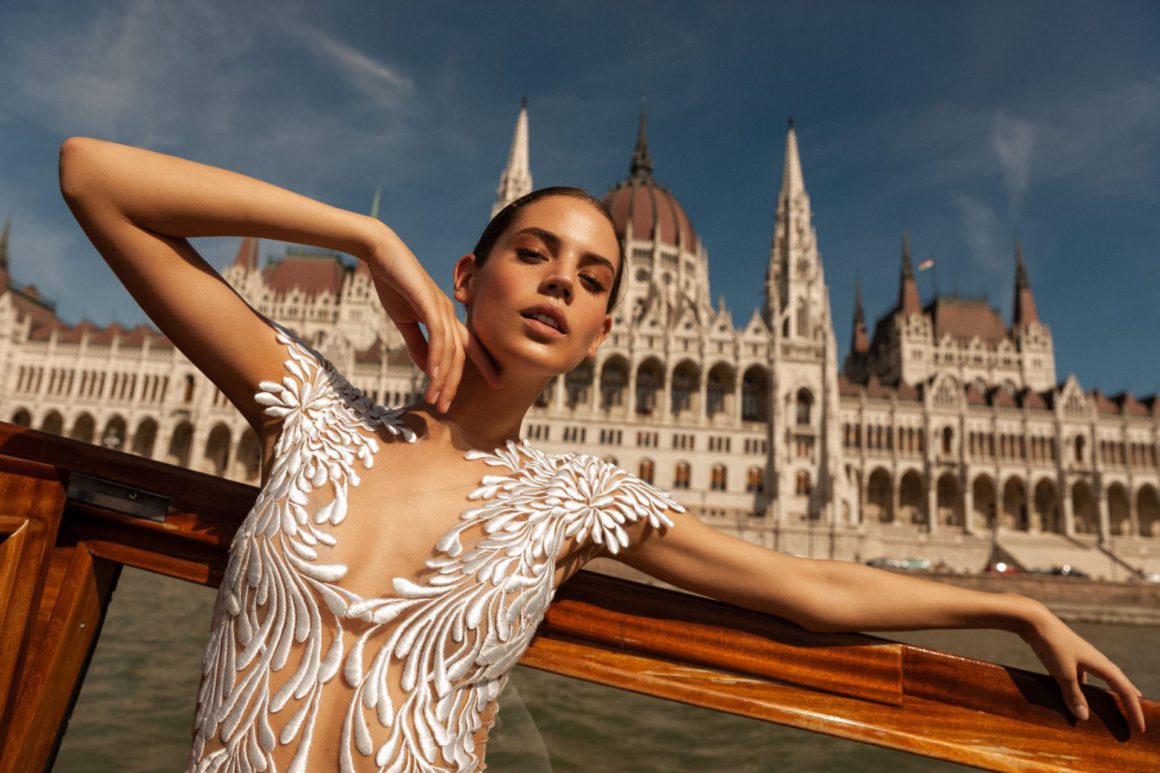 For me, Budapest is filled with a good, cozy feeling, even with its constant downtown construction or the inapposite concrete buildings from the post-socialist era. This experience fills my heart every morning on my way to our Daalarna atelier, and it is a reassurance to me even in these unusual times.
In our fast-paced world, fewer and fewer festive occasions are enriching our everyday lives anyway, and life events to which we attach great importance are becoming less and less common. This year has received even fewer of these, although celebrations we experience together have proven to have a positive effect on our physical and mental health.
I have a story about this. One day while I was waiting in line at my car mechanic, a completely fascinating piece of writing caught my eye. A framed letter caught my eye in the customer waiting room, which was found during construction.
All this during the siege of Budapest, in World War II. It was very special to understand how important marriage was in his life, even in those times of distress. In the letter, he recounted in how many places the city was burning, yet his main concern was to be able to marry his love, despite the circumstances.
I experienced something similar this year as we have been continually jittering with our Daalarna brides to see whether their weddings, which had been organized for months, could take place or whether they have to postpone them. Our brides also proved the fact that the importance of the special moments and the joy of waiting is a very important retaining force. Regardless of the dates of their future weddings, they can always count on their Daalarna dresses. As a result of the enormous trust placed in us, I was soaring while designing the new BUDAPEST collection, and this period has further strengthened my belief in the legitimacy of my work and profession.
As a reflection of this, textures interwoven with metal fibres, sequins, glitter, beads and crystals appear on the wedding dresses, inspired by the thousands of faces of sunlight shining on the water of the Danube River.
The Hungarian motifs and designs refer to the rich handicraft traditions of Budapest. It is also due to this that at the turn of the century, in addition to Vienna, we were one of the European capitals of fashion.
Together with the jewellery designer of Rienne Bride, we reimagined the face mask, which, in addition to its original function, has now become an unavoidable element of fashion – and a new accessory has been born. The artistic jewel-like accessory creeps onto the face, as well as the giant veils, which refer to one of the defining basic experiences of today: hiding.
During the campaign shooting, it was clear to us from the beginning that a change of perspective would be our guiding idea. We did not want to show Budapest as a tourist attraction, well-known from postcards, but rather as a way of life, in its ordinary reality.
For me, the most exciting part of the city's image cavalcade is not only the iconic architectural wonders of millennium Budapest – they are inextricably linked to the emblematic, robust buildings of socialism as well.
DRESSES: DAALARNA COUTURE, PHOTOS AND FILM BY EVA PAPP AND ZOLTAN SCHNEIDER, MODELS: BERTA NAGY & ZITA DOBAR (ATTRACTIVE MODELS), MAKEUP AND HAIR BY CSILLA KISS, JEWELLERY: RIENNE BRIDE

Click here for the new Daalarna BUDAPEST collection lookbook! If you want to check if your dream Daalarna dress is available in your country, click here for the list of our international retailers. Don't forget to follow us on Instagram and Pinterest!