We are incredibly proud that Daalarna gowns are now available at more than 30 international retailers worldwide, including bridal boutiques in the USA, Canada, Australia, Hong Kong, UK, Ireland, Germany, Austria, Switzerland and Ukraine. In this column, we introduce you to some of our retailers from all around the world. This time, owner Manuela Kalupar answered our questions about Feinstens, her incredibly stylish bridal shop in Linz, Austria.

What is the story of your beautiful salon?
I established Feinstens in 2015. I am a wedding photographer, and after covering 130 weddings, I knew I had to change something in Austria. There are so many brides who don't feel good in their dresses on their wedding day. They cannot eat, cannot dance, cannot use the toilet without help because the dress isn't comfortable and what is even worse: there is no place left for the brides' personality. I didn't want to photograph beautiful girls in dresses not reflecting their personality.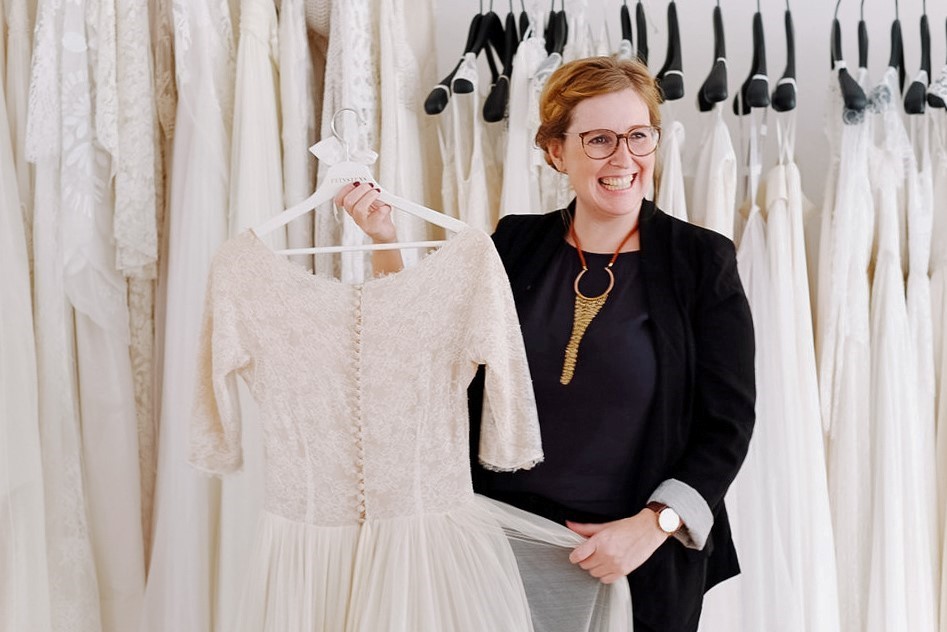 Could you tell us more about the philosophy behind Feinstens?
Feinstens is a typical German word and means "more than sophisticated". The name stands for a unique bridal boutique for the modern brides, who will always be a bit wild. It's for women with a strong sense of identity, who are a bit romantic and a bit boho. They should always stay true to themselves in everything they do – including choosing their wedding dress.
I present an exclusive, intimate wedding world for the bride in a loft, situated in the historic city of Linz. Therefore, I call it 'living room' to express its special, exclusive character, and the intimate atmosphere created by the type of room.
I also opted for the location in the historic city of Linz on purpose, as the charm of the house and the surroundings underline my philosophy.
We stock wedding dresses of maximum eight international designers exclusively supplying my shop in Austria. In addition to wedding dresses, we offer accessories from around the new world of the bride. I do not only follow the concept idea of the living room because of its exclusivity, but also because a living room is intimate. In this atmosphere and due to my care, every bride has the feeling of being in a protected space. This exceptional individual attention is my philosophy, combined of course with lots of styles and good vibes!  I consciously decided that there should be no fixed opening hours so that every bride has the feeling that I am there only for her. We just open for her. There is no greater extent of appreciation and attention for a bride.
For my business, professionalism has the same value as the heart. My Feinsteins should be something new, stylish, a real love revolution here in Austria.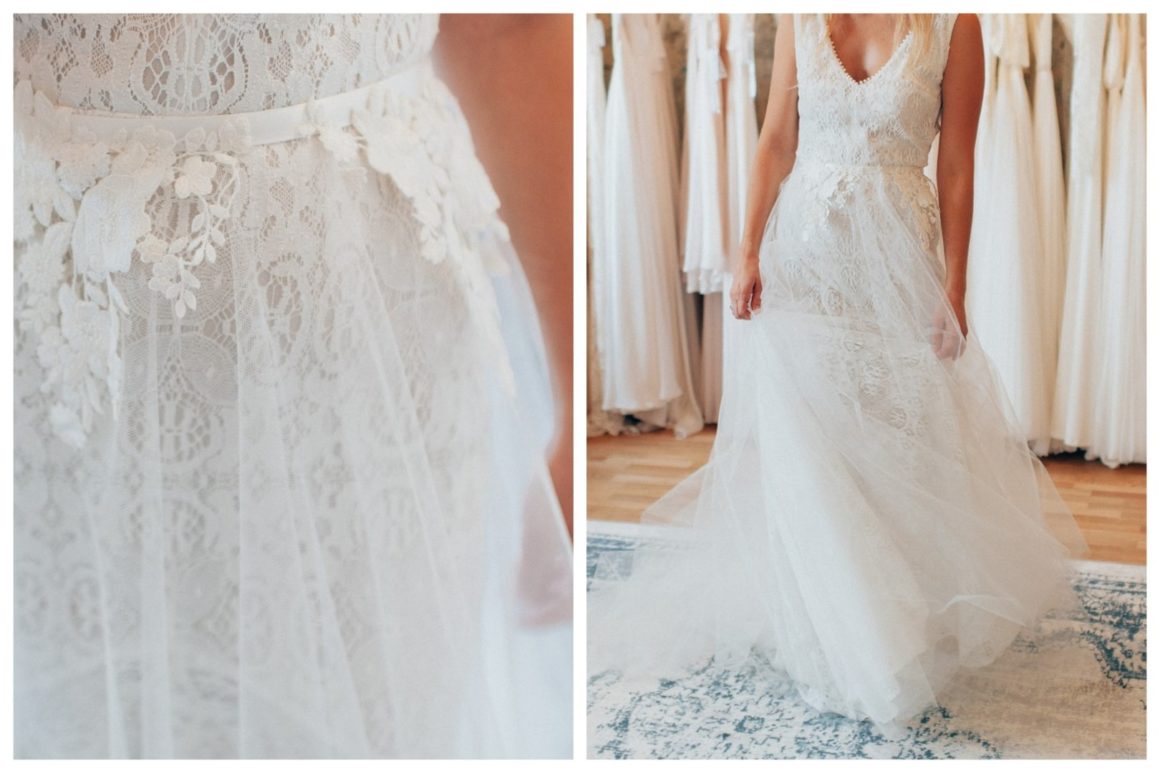 Please tell us more about the style of the bridal gowns you choose for sale! Would you mention some brands?
Light fabrics, boho touch, french chic, romantic, laid back with a bit wild at heart style. And the brands: Rue de Seine, Anna Kara, Daughters of Simone, Otaduy, Cortana, Light and Lace, Lora Folk, Eleonore Pauc and of course, Daalarna.
How did you discover Daalarna Couture and what is the reason you have chosen the brand?
I think I found Daalarna on Instagram and I only had to see one picture to know that my brides would love the style. When I first made contact with Viktoria, I loved her respectful and friendly approach to retailers. Another reason was that I only buy dresses made from grown-up women. I don't take designers who produce in China or India.
What kind of Daalarna dresses are the most popular ones in your salon? What do you think, why do Feinstens brides love Daalarna gowns?
The top sellers are FLW 932 and BLT 141– because they are flowy, light, feminine and a bit sexy AND they are very high quality.
How would you describe your customers? (style, personality, taste etc.)
Feinstens brides want a dress that shows their personality, and they want to be themselves with an extra touch of boho, romantic. They love the extraordinary fitting experience and the intimate time with their beloved ones in my living room.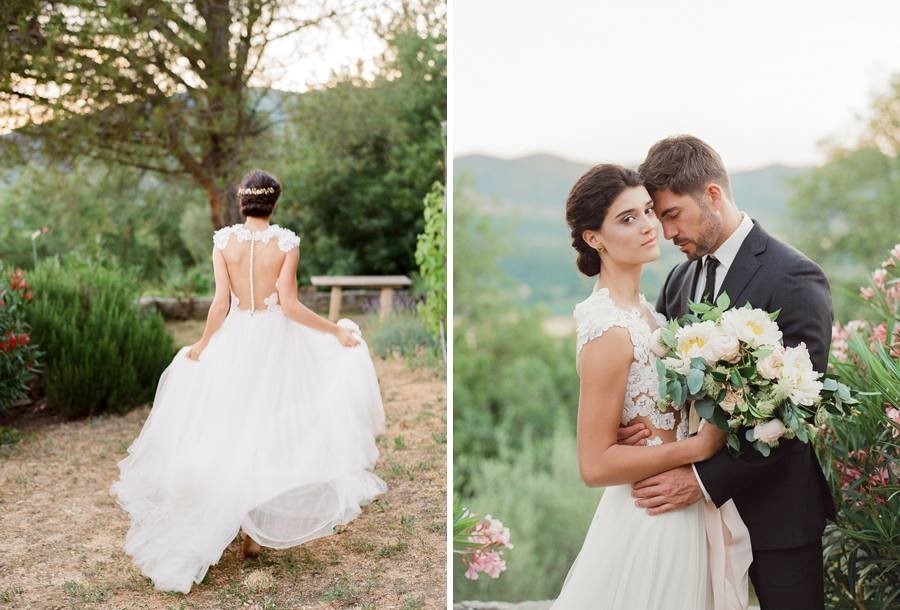 Do Austrian brides follow similar trends at their weddings?
Yes definitely. But I think we are five years behind every trend. Now everybody loves vintage weddings. 🙂 It's a lot of work to give them a new feeling: be yourself! Don't wear the dress to please your mother!
Do you have some unique wedding traditions in Austria?
The mother of the bride buys the dress, the night before the wedding the couple has to sleep separately. I have lots of free-spirited brides who don't care too much about traditions.
Photos: Feinstens, Dresses: Daalarna Couture
Take a look at the Feinstens salon's website by clicking here! You can also check our international retailers by clicking here!